The Best Inflatables
on Earth.
Contact Us
Learn more ▾
The Best Inflatables
on Earth.
Our commercial-grade inflatables can help you stand out from your competition.
Inflatables are our passion. We're a family-owned and operated business, and we're dedicated to making what are, simply put, the best inflatables you can buy. We only use premium materials in our construction, and we never cut corners to save a buck. This means that while our inflatables may cost a little more, they feature amazing designs and workmanship that can help your business be more than "just another" bounce house business.
We're guessing that you're doing what all smart people do: shopping around for the best deal. We get that. And chances are you'll find a company selling bargain inflatables for a cheaper price. If that's the route you want to go, more power to you. But make sure you're really comparing apples to apples: not all inflatables are created equal.
Read on to find out just what makes the Cutting Edge™ brand of commercial-grade inflatables so special.
The wow factor.
We love designing really cool inflatables. Over the years, we've built our reputation on making inflatables that feature amazing designs and push the limits of what's possible.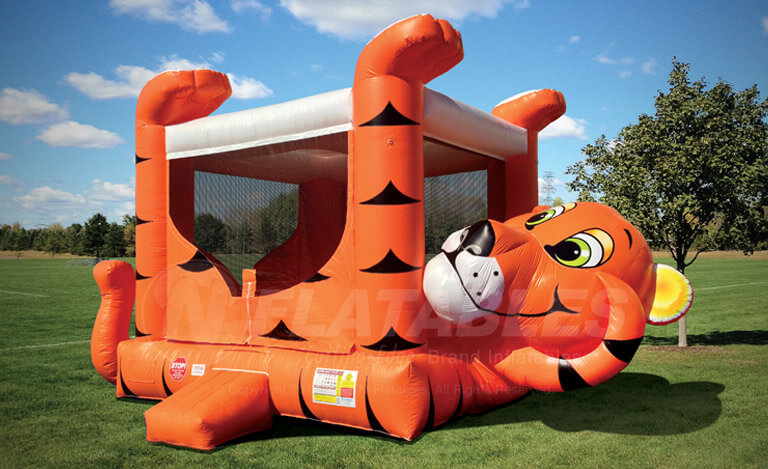 Which would you rather have?
That wow factor is what will help you stand out in an industry filled with bargain, generic "jumpy castles". Our goal is to make inflatables that you'll want to feature on your business card and website, front and center!
Premium materials, built to last.
The quality of inflatables really comes down to two things: workmanship and the quality of the vinyl. What good is great workmanship with cut-rate materials? That's why we only use true commercial 18oz vinyl that features a special anti-tear weft substrate. Many manufacturers claim to be "commercial-grade" while using cheaper woven materials, or even lighter weight 15oz materials to keep costs down.
In addition to premium materials, we use industry best practices during the manufacturing process. That includes double-stitching every seam on the inflatable and reinforcing mattress seams (for a total of 6 rows of stitching), as well as utilizing replaceable wear covers on high-traffic areas.
As with everything in life, you get what you pay for. Inflatables are a big investment; why put that investment at risk with cheap materials or construction?
Safe for kids.
The end users of most inflatables are children. That's why safety is so important. Plus, mitigating your liability risk is just good business. All of our inflatables use lead-safe and flame-retardant materials, as well as critical safety features like FingerSafe™ mesh netting and sun shades that help keep kids safely inside the inflatable.
We spend the extra time and expense to have engineers review our inflatables, and we're intimately involved with the ASTM and the creation of inflatable safety regulations. You can be sure that all of our inflatables meet or exceed industry standards.
Experience matters.
Our company is made up of veritable experts in the inflatable industry, with some of our team having well over 30 years experience with inflatables. Over the years, we've worked with countless companies, ranging from small mom-and-pop backyard rental companies to the biggest indoor center franchises and outdoor event companies. If you have questions, we probably have answers and advice. And we know what's required in making and designing an inflatable that's going to last and be successful for our customers.
Contact us
Toll-free: (800) 811-7002
Local: (651) 209-8600
Follow us:


Let's get in touch