Quick jump:
Do you rent inflatables?
No, we do not. If you are looking for a rental company in your area, please visit BouncerDirectory.com.
Are your inflatables commercial-grade?
Every inflatable that we sell is commercial-grade. In fact, you might say our inflatables are ultra commercial-grade! We use only the best materials and never cut corners during manufacturing.
How are commercial-grade inflatables different than consumer-grade?
Commercial-grade inflatables use heavy-duty 18oz vinyl coated nylon, seam-reinforcements, and (at minimum) two rows of stitching since they are designed for heavy wear-and-tear. "Consumer" inflatables (sold at big box stores) often use lightweight nylon and a single row of stitching since they are designed only for personal use. Unfortunately, some inflatables marked as "commercial-grade" sold by other companies often use 15oz vinyl and other substandard materials — so make sure what you're buying really is rated for commercial use.
Can your inflatables be used indoors and outdoors?
Absolutely! All of our inflatables are rated for outdoor use, as well as being designed to withstand the heavy demands of a busy indoor center. When using an inflatable outdoors, make sure you clean it after each use and never — never! — pack it up wet.
What kind of vinyl do you use?
We only ever use anti-tear 18oz vinyl coated nylon on the structure of the inflatable. For cosmetic parts (such as character shapes and decorations), we will use a more flexible 7oz vinyl. This cuts down on unnecessary weight and allows more intricate designs. These cosmetic portions are usually out of reach of patrons and never affect the structure of the inflatable. All of our vinyl materials feature a special weft substrate, meaning they are virtually impossible to tear!
Do your inflatables have lead?
All of our inflatables are constructed from materials that are lead-safe, meaning levels below 90ppm. This is well below even the strict CPSIA and California Proposition #65 compliance limits of 300ppm, meaning our inflatables are safe for children. We also use vinyl materials that are flame-retardant and meet the new California NFPA 701, large and small-scale tests.
How long do your inflatables last?
Since our inflatables are commercial quality, they are designed to withstand heavy wear-and-tear over many years. How long it lasts, though, is often up to you (the same is true for cars). Packing up an inflatable that is wet, overloading it, dragging it across the ground (or not using a tarp), etc. are naturally going to shorten the inflatable's lifespan. Since all inflatables involve vinyl panels sewn together, you will eventually need to perform minor repairs. For busy indoor centers, this is likely to happen every 1-2 years. We know repairs are no fun, which is why we do everything possible to reduce their frequency; we reinforce high-stress areas with 6 rows of stitching, for instance, and climbing walls and sliding lanes always feature a replaceable vinyl cover.
How long is your warranty?
We offer an industry leading 2 year warranty on all inflatables used outdoors. Since indoor centers often feature usage rates more than double outdoor rentals (think a busy center operating midweek, versus weekend rentals), our warranty is limited to 1 year for indoor centers. In either case, during the first 90 days (when most warranty issues are discovered), we pay roundtrip shipping. After that period, you pay to ship it to us (or we can approve a local repair center) and, if it is a warranty claim, we will fix it and ship it back at no charge.
How do I transport and install inflatables?
Our customers use anything from a pickup to a box truck, depending on the size of the inflatable. You're also going to want a heavy-duty cart rated to the weight of your inflatable and heavy-duty tarps. You may also want to consider cambuckle straps. All of our inflatables include everything else you will need for installation, as well as diagrams and instructions. You can also take a look at our Instruction Guide section.
Do I need insurance?
Yes, you're going to want to buy insurance for your inflatable. To help, we maintain a list of several insurance companies our customers recommend.
Where are you located?
We are located in Mendota Heights, MN about 10 minutes from the Mall of America and MSP airport.
Do you have a showroom that I can visit?
You are welcome to visit us, but we operate a full factory and shipping center, not a showroom. We do have inflatables up for quality control around the clock, but these can vary dramatically depending on the time of day. You are welcome to arrange a time to visit (please call us first), but we can't guarantee any specific inflatable will be inflated.
Are your inflatables built in China?
Many people are rightly concerned about the quality of "Chinese inflatables". We operate a full factory in Minnesota, as well as our own factories in China. Unlike fly-by-night Chinese companies that sell direct with no U.S. presence (or even U.S. companies that merely resell Chinese designed inflatables), we design and manufacture our own inflatables to our own (very demanding) specifications. If you would like to learn more, check out the article "Chinese Inflatables: Myths vs. Reality".
What do your inflatables come with?
All of our inflatables include a heavy-duty vinyl storage bag, tie-down straps, 30"-40" metal ground stakes, repair kit, and instruction manual. Inflatable games also include the necessary accessories (headgear, joust poles, etc.). We do not include blowers with our inflatables (unless otherwise indicated).
Why don't you include blowers with your inflatables?
The majority of our customers have been in the inflatable industry for quite some time, and they have plenty of blowers. So why make them pay for something that they don't need? To keep things simple, we keep our prices low and sell blowers separately.
What kind of blowers do I need?
Typically, inflatables will require 1HP-1.5HP high-output blowers, although some inflatables only need a 1/4HP mini blower while others need a 1HP Snail Fan blower. If you're in Canada, you'll need ETL certified blowers, and if you're outside the U.S., you may need a blower with a special voltage. Each inflatable on our website indicates the correct blower that you need, but if you have any questions feel free to give us a call.
Are your inflatables in-stock?
We try our best to keep inflatables in-stock during the busy inflatable season (March-October in the U.S.). However, we have over 300 different inflatables, and we can't always keep each one in-stock. Many of our inflatables (like the Monster Truck Combo™) are so popular that they're always on a waiting list. Inventory levels change by the minute, so we always ask our customers to give us a call to check on a product. If it is in-stock, we can generally ship within 1-2 business days.
If an inflatable isn't in-stock, how long does it take to build?
If any inflatable is not in-stock, we may have one already being built. In that case, we can provide you with a estimated ship date. If we have to start from scratch, it is generally about a 90 day lead-time, although we can rush production if needed (for an additional cost). That's why we recommend that you place an order well in advance if you need it by a certain date.
Can you customize inflatables?
Absolutely! The majority of customizations involve color changes or height modifications (most arches can be removed, for instance), but we can also create entirely custom inflatables. Give us call, and let us know what you're looking for.
How much is shipping?
The answer to that question can vary dramatically. Shipping is based primarily on weight and the destination, so we really need to do a shipping quote for each order. Shipping to a commercial address or freight terminal is always cheapest, while shipping to a residential location is usually about $100 more expensive. Give us a call, and we'll get a custom quote to your address.
Where can you ship?
Anywhere. No, seriously, we ship all over the place. Except P.O. boxes, of course! Our customers outside the U.S. typically arrange their own shipping.
How long does shipping take?
For destinations inside the U.S., transit time is typically 3-7 business days (not calendar days, keep in mind). When we make shipping arrangements, the freight company will usually provide an estimated transit time (usually 3-4 business days). However, unless you're willing to pay a lot more, these times are not guaranteed. Once it leaves our facility we have no control over it. Unfortunately, sometimes freight will sit at the terminal for several days until the freight company has a full load to transport. That's why we say 3-7 business days (on average) and encourage our customers not to book rentals or events until you have taken delivery.
Can I order online?
No. Since inventory changes so frequently and shipping charges need to be quoted, we need to speak with you over the phone. Simply pick out what you want online, and click "Request Quote". We'll be in touch as soon as possible to help you complete your order.
Do you offer package deals?
Yes! Generally speaking, simply pick out an 3+ inflatables and request a quote. We'll work out a special package price for you. Please note that not all inflatables qualify for reduced pricing, and some prices (Blowout or Outlet Store deals) are priced as low as we can go.
What form of payments do you accept?
We accept all major credit cards, as well as cashiers checks, bank wires, ACH transfers, and money orders. We can accept personal or company checks, however, we have to wait for these to clear before we can ship your order (usually 10 days).
Do you offer financing?
We do not offer in-house financing. We do, however, work with a number of financing companies that cater to the inflatable industry. You can find a list of our recommended companies on our Financing page.
How does your layaway program work?
Most of our inflatables are eligible for free layaway. This is really nice if you want to lock-in a sale price, or secure a ship date, but can't take delivery or pay in full right away. You can read all about it on our Layaway page.
How do I clean my inflatable?
Most household cleaners should work just fine. Since children are typically involved, non-toxic cleaners are a good idea. Our warehouse team frequently uses Simple Green for light cleaning. For heavier jobs, they will use Mr. Clean Magic Erasers. It is important to test ANY cleaning product in an inconspicuous area first. When cleaning digitally printed surfaces, only use a light cleaner, like Simple Green, and a soft cloth.
How do I keep my slide surfaces slippery?
All of our inflatable slide surfaces feature a removable wear cover with a built-in slippery coating. It is not required to add anything to it. However, conditions like humidity and wear and tear can make the slide less slippery than desired. We recommend using 303 Aerospace Protectorant on the sliding lanes as this will make it more slippery and may help prolong the life of the covers. Please note that you will likely need to replace the wear covers after a period of time.
Why is there a slit in the digital print on my inflatable?
You may be alarmed to find a small slit in the digitally-printed vinyl of your new inflatable, but rest assured, this is an industry standard method to allow artwork to remain flat and not overinflated. Let us explain how this is beneficial and does not compromise on the integrity of the inflatable.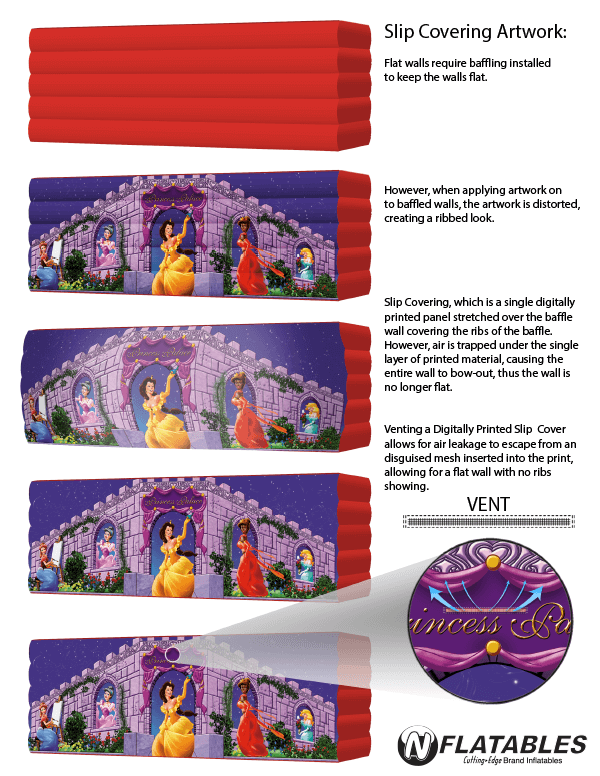 Flat walled sections of an inflatable require baffling to be installed in order for the walls to remain flat. When a section of an inflatable has a digitally printed area that covers up a baffled area, a digitally printed panel is sewn around the area to cover up the bumps of the baffles. Unfortunately, these slip covers catch air and eventually over-inflate the area. This requires us to sew in a mesh area to provide venting. We then put a slice into the digital to allow for air to escape in that area. If you look into the slice, you will see a mesh material. This material keeps the integrity of the inflatable while allowing air to escape to that the slip covered digital material can remain flat. Every inflatable that has flat sided digital panels covering baffles has to have this feature, or the whole area will over-inflate like an over-stuffed pillow.