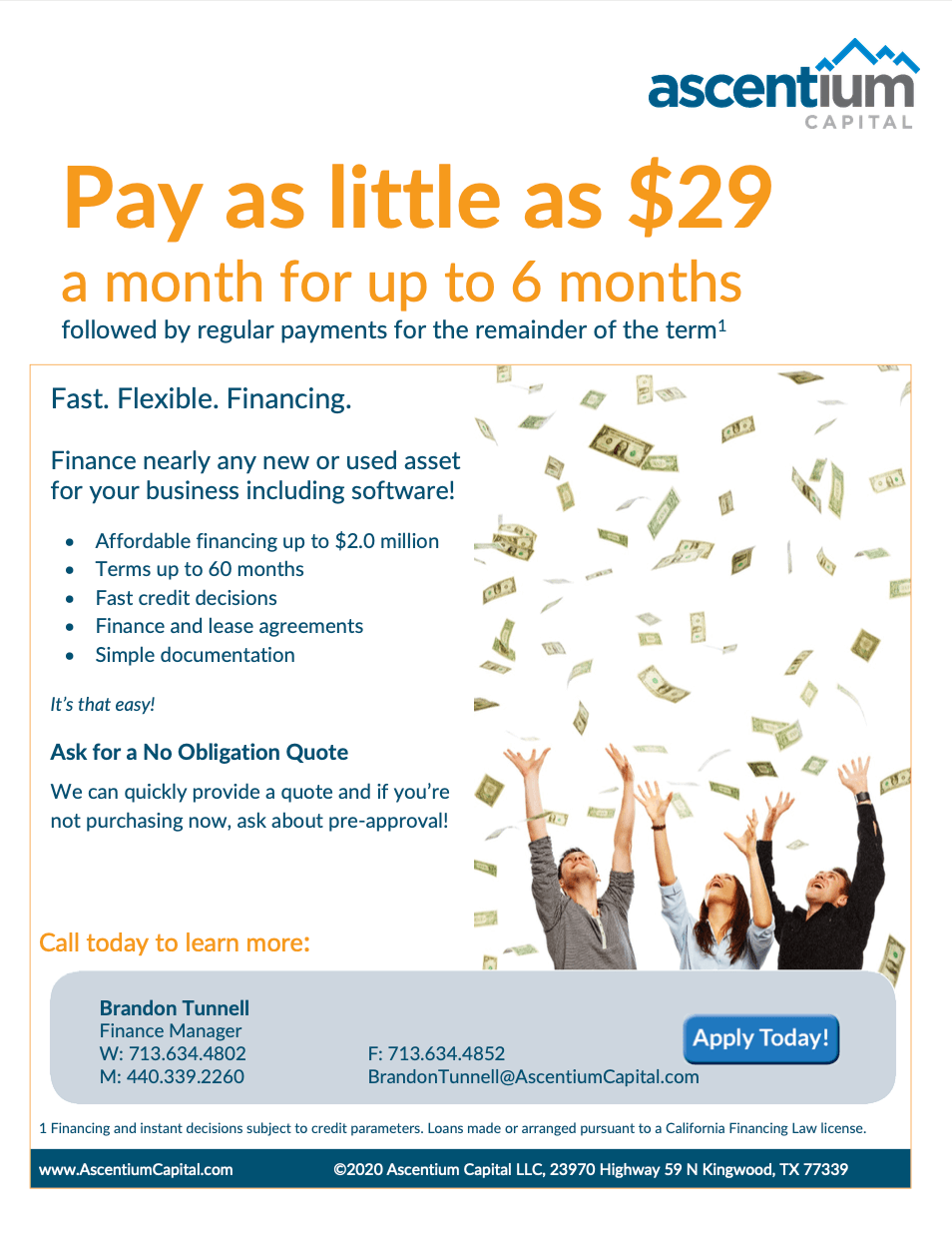 No doubt you are being affected by the health crisis caused by COVID-19. In addition to many people getting sick, the economy is currently at a standstill and the amusement industry is particularly affected. While we don't know when this crisis will end and life returns to normal, as businesses we still need to plan for the future. And a great way of doing that is by using financing to improve cash flow.
Rentals and events will return, and when they do you will need to be prepared. Right now Ascentium Capital is offering qualified buyers 6 months of reduced payments (as low as $29 a month). If you currently have an open order, or are looking to strengthen your lineup to take advantage of pent up demand later this year, this is a great time to buy.
In order to qualify for this promotion, you will likely need at least 2 years in business and a 650+ personal FICO score. Credit decisions are fast, and you can apply online.
Up to 6 months reduced payments for well-qualified buyers (650+ FICO and 2+ years in business)
Approvals case-by-case basis
90-day deferred payments for well-qualified buyers (675+ FICO and 3+ years in business)
Approvals case-by-case basis
---
We also understand many small businesses can't even think about making a purchase right now; they're focused on staying afloat. In this situation, be sure to take advantage of special programs offered by the government to assist small businesses:
SBA programs:
https://www.sba.gov/page/coronavirus-covid-19-small-business-guidance-loan-resources
Other Programs:
https://www.forbes.com/sites/advisor/2020/03/20/list-of-coronavirus-covid-19-small-business-relief-programs/#28634099e89d