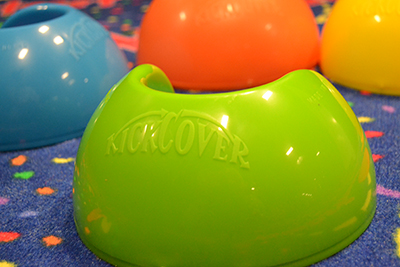 April 27th, 2017 | Robert Field
Kick Covers™ are an ingenious invention conceived as a solution to "Stubbed Toes" in indoor Family Entertainment Centers (FEC's).
Indoor FEC's using inflatable devices experience dozens of patrons running around, for a couple of hours in an active play zone, without their shoes. The Kick Cover™ was conceived by an owner of a busy franchised indoor party center to protect his customers from injury.
Inflatable amusement devices require proper anchoring according to the manufacturers guidelines. Even indoor centers must properly anchor the inflatables to prevent movement and or flipping of the inflatable while in use. This means the anchors are in the floor surrounding the inflatable device. Often these floor anchors are exposed to the public, potentially creating a hazard for patrons not paying attention to such floor anchors.
The Kick Covers™ are manufactured using a durable plastic material with a design that gives the finished product a sleek smooth appearance. This protective cover surrounds the EYE BOLT connection going into the floor preventing any contact with the hardware.
The colorful exterior finish of the Kick Cover™ brings attention to the potential hazard and helps prevent patrons from tripping or catching a toe on a floor anchor.
We highly recommend the Kick Covers™ for any indoor center using inflatable devices.